Global real estate leaders, innovators and trendsetters enthusiastically convened in a standing room only crowd at the 8th annual University of Miami Real Estate Impact Conference hosted by the School of Architecture, and the Miami Business School on February 8 at the Four Seasons Hotel.
Dr. Charles Bohl, the Director of the Master of Real Estate Development + Urbanism Program, welcomed the audience noting  "South Florida is the place to be for students to immerse themselves in all facets of the real estate industry." He continued, "the University of Miami has become an interdisciplinary powerhouse, offering undergraduate and graduate programs in every field connected to the real estate industry under one roof: architecture, construction, real estate development, finance, urban design, engineering and real estate law."
Long touted as one of the industry's pre-eminent conferences, hundreds of University of Miami students and alumni gathered together with commercial real estate and finance leaders from across the country in a tribute to Jay Kislak, one of the University of Miami's most ardent supporters and one of the Impact Conference's founding patrons. John Kislak, Jay's son, noted that "the conference fuses two of my father's passions, a love of Miami and a love of learning".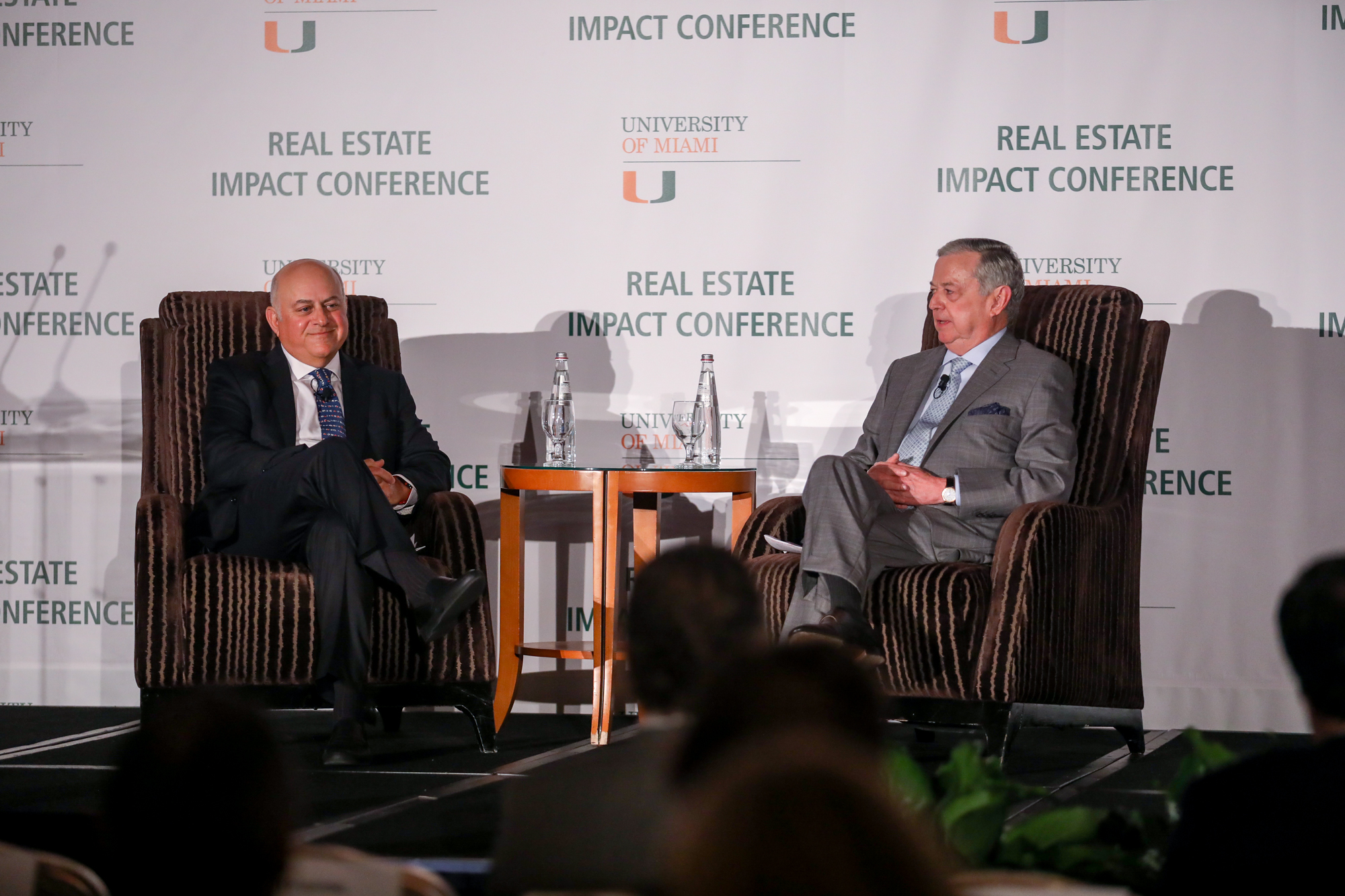 "I am here because of you," said Armando Codina, Executive Chairman, Codina Partners in an opening keynote discussion with longtime friend and business partner of more than 20 years, Hamid Moghadam, Chairman and CEO, Prologis. The merger in 2011 of AMB and Prologis remains one of the largest mergers creating a firm with owned and managed assets of over $46 billion. Hamid Moghadam has remained at the helm since the merger and noted that 2% of the global economy passes through the Prologis distribution system. Asked for their advice to the student-filled audience, Armando Codina advised students that "there are no good deals with bad guys" and Hamid Moghadam recommended to students "view your career as a funnel and, early on, try and get as much exposure as you can to as much as you can.
In the second session, Rodolphe El-Khoury, Dean of the School of Architecture, shared that the recently completed Thomas P. Murphy Design Studio Building was recognized as 2018 Building of the Year and thanked the Thomas Murphy Jr. family for their leadership and support of the University of Miami. Dean El-Khoury introduced Avra Jain, Founder, Vagabond Group, Paul Darrah, Director of Real Estate NYC, Google, and Michael Phillips, President, Jamestown, L.P. After touching on the highlights of the $2.4 billion Chelsea Market transaction, Jain asked Phillips and Darrah to share their process of identifying, incubating and curating communities within existing public spaces. Asked for their advice to students, Darrah commented that "a core value of being in a workplace is collaboration. Technology offers employees an opportunity to work remotely but collaboration is where individual ideas become part of a greater good". Phillips commented that "the idea of a dual degree in architecture and business is genius. Design with constructability is what our business is all about."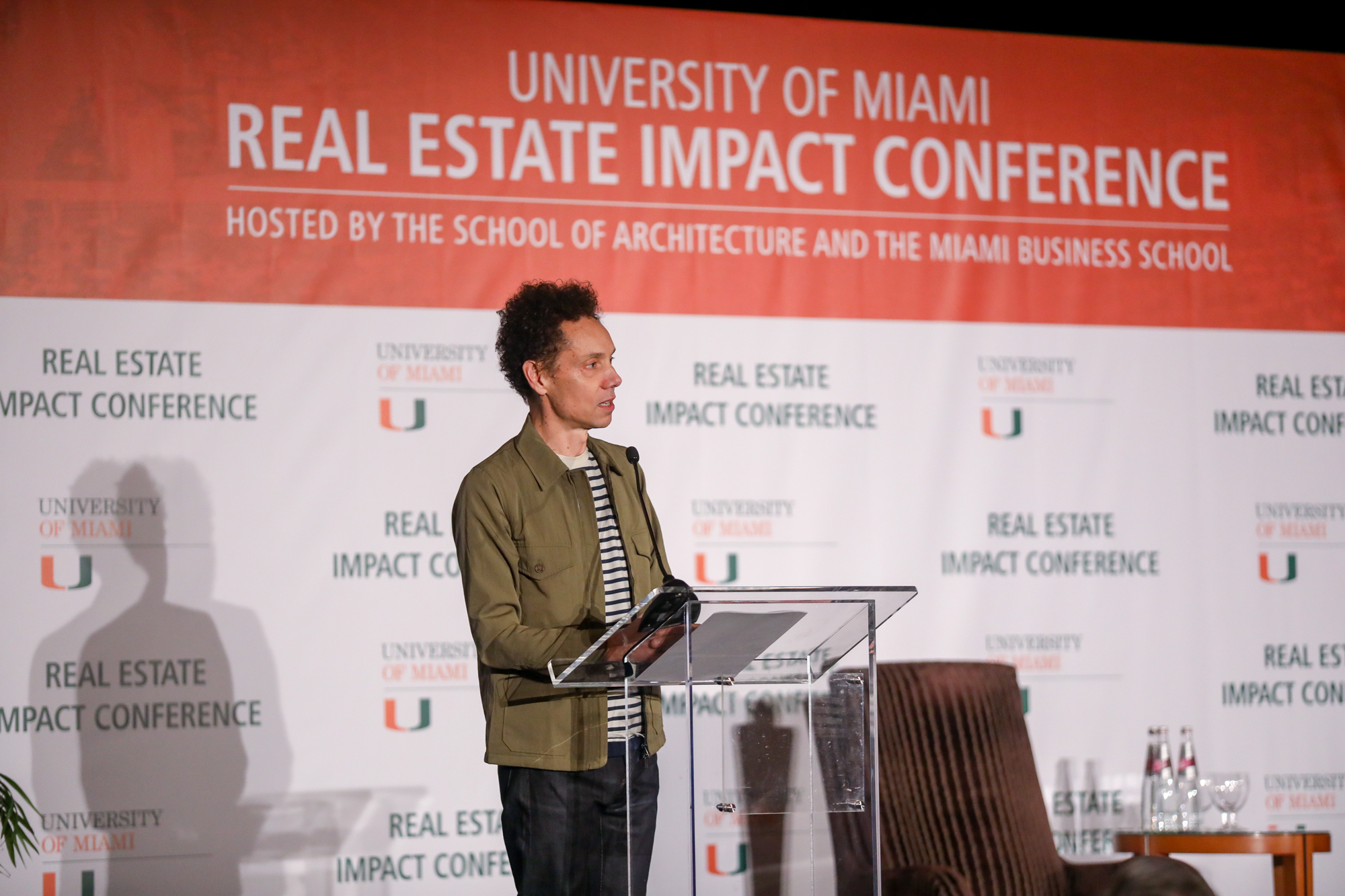 In the final session, University of Miami President Julio Frenk noted the UM Real Estate Impact Conference has been an outstanding example of a successful collaboration amongst the School of Architecture, Miami Business School and the School of Law. He introduced Malcolm Gladwell, award-winning author, journalist and researcher, who opened with the remark that "I never talk about something that my audience knows more about than I do". He addressed the psychological implications of buildings, streets and neighborhoods and captivated the audience with research and theories on how modern day real estate developers have a responsibility and an opportunity to be custodians of the built environment and bring joy into lives through buildings and place. In closing, his advice to students throughout the discussion was that what you do matters and that the benefits of interdisciplinary learning have become greater.