---
2018-19
June 2019 Graduation Events and News

In June, the MRED+U program gathered at The Douglas Entrance to celebrate with 22 graduates plus Advisory Board members, alumni and faculty. The reception was graciously underwritten by Banyan Street Capital and Advisory Board member Rudy Touzet. The graduates capped off a year of team projects, site tours, internships, competitions and academic achievements at this annual event.
These graduates and our current students have participated in internships this past academic year and summer at firms that include AG&T, CBRE, DSS, Driftwood Hospitality, Fortis Design + Build, Grass River Property, Gridics, Housing Trust Group, Lennar, Mattoni Group, Plaza Construction, Related Group, Rilea Group, Starwood Capital, Terra Group, Whitman Family Development, and 13th Floor Investments.
Eleanor Williams was the recipient of both the Outstanding Student in Real Estate Development + Urbanism award (voted on by her peers) and the Academic Excellence in Real Estate Development + Urbanism award (highest GPA). Felipe Azenha (MRED+U '12) was the recipient of the Outstanding Alumni in Real Estate Development + Urbanism award. In addition to actively participating in the MRED+U Alumni group, Felipe joined the MRED+U Advisory Board in 2018, has hired MRED+U students as interns and is a co-founder and current Director of Business Development for Gridics.
Of the 22 graduates, nine students graduated with a dual degree from either the Construction Management program or with a Masters in Architecture. Full-time opportunities included positions at Coastal Construction, DSS, Fortis Design + Build, Housing Trust Group, Link Real Estate, PERI, Plaza Construction, Sunview Companies, Terra Group and ZOM Living.
MRED+U - TRD Shark Tank Event on April 24th, 2019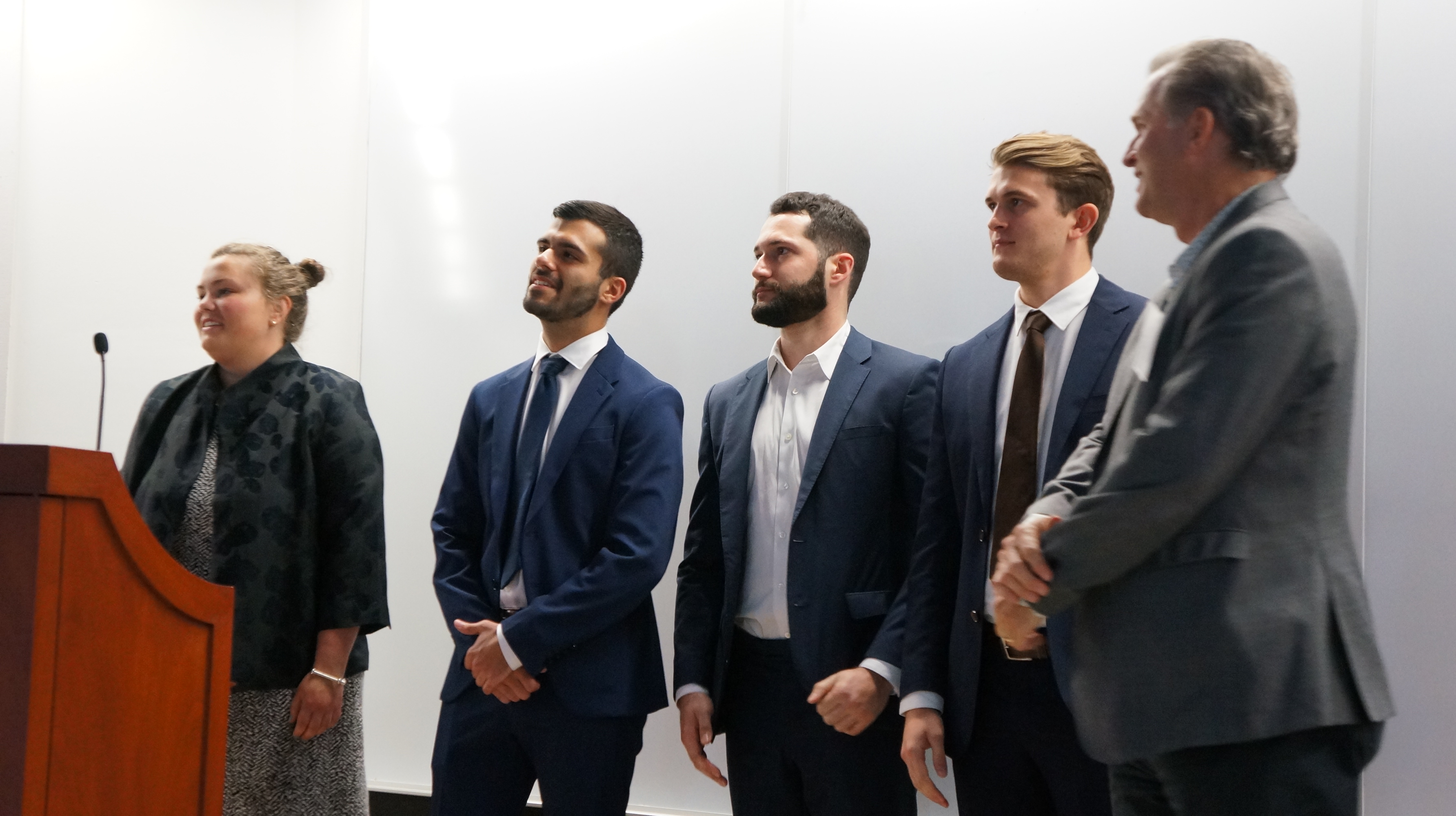 A panel of real estate sharks that included Lennar Corp. COO Fred Rothman and Miami developer LissetteCalderon offered sage advice to a group of University of Miami graduate students pitching their real estate projects at The Real Deal's Shark Tank: Future Leaders of Real Estate Challenge.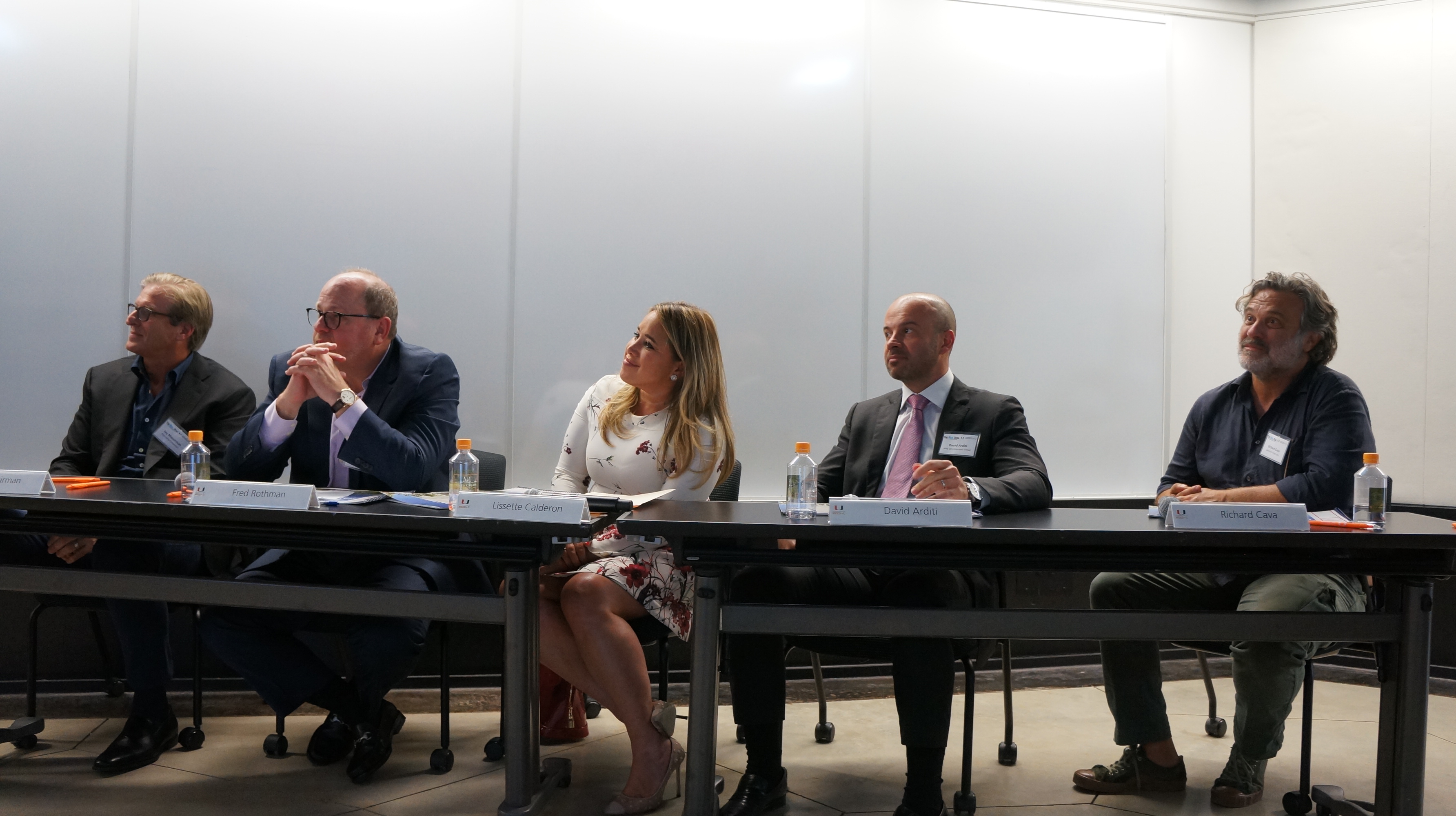 The sharks – Rothman, Calderon, developers David Arditi and Jay Massirman, and investor Richard Cava – reviewed three proposals from graduate students in the University of Miami School of Architecture's Master of Real Estate Development and urbanism program. The first-ever event was emceed by TRD Publisher Amir Korangy and Miami Worldcenter developer Nitin Motwani.
MRED+U 3rd Annual Cocktails & Conversations with Women Leaders in Real Estate event on April 3rd, 2019 
Last Wednesday April 3rd, 2019, we welcomed over 100 participants to the 3rd Annual Cocktails & Conversations with Women Leaders in Real Estate event at the Ritz-Carlton Coconut Grove. It was a fast paced and interactive evening with UM students and alumni participating in small group discussions with 17 of our MRED+U, MBS and Law School board members. There was plenty of time to mingle and network before, during and after the formal program and it was exciting to watchthe conversations spark at the energetic reception.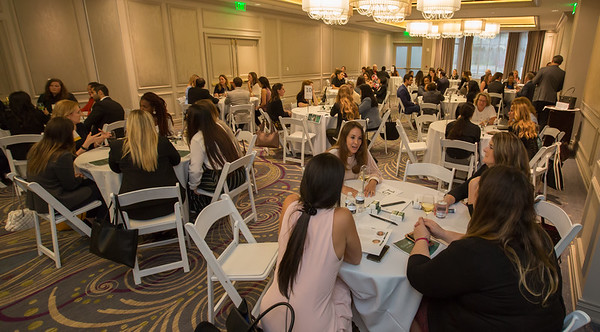 What started just a few years ago with four MRED+U Advisory Board members has grown to a collaborative event with MRED+U, MBS and Law School board members bringing Miami's leading women real estate professionals together with our students and alumni for introductions, advice, and networking. All of the table topics for the evening came from ideas and suggestions generated by our students and alumni and included: "How to Get an Internship and Job Faster"; "Relationship between Architects and Developers"; "Pros and Cons of Working in a Large Firm Versus a Smaller Boutique Firm"; "What Was Your Most Difficult Period in Your Career, How Did You Overcome It and What Lessons Did You Learn from the Experience?" and "What is the Best Thing You Have Done Outside of Real Estate that Has Positively Impacted Your Real Estate Career?"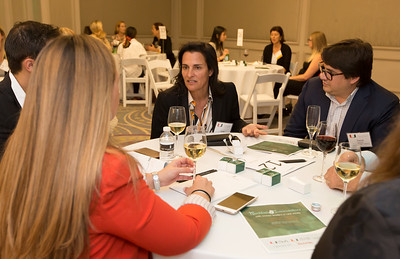 The evening was a tremendous success, and we would like to thank The Vagabond Group, The Ritz-Carlton Coconut Grove and Hersha Hotels and Resorts for their ongoing sponsorship and our table hosts for their time and input. We look forward to seeing everyone next year!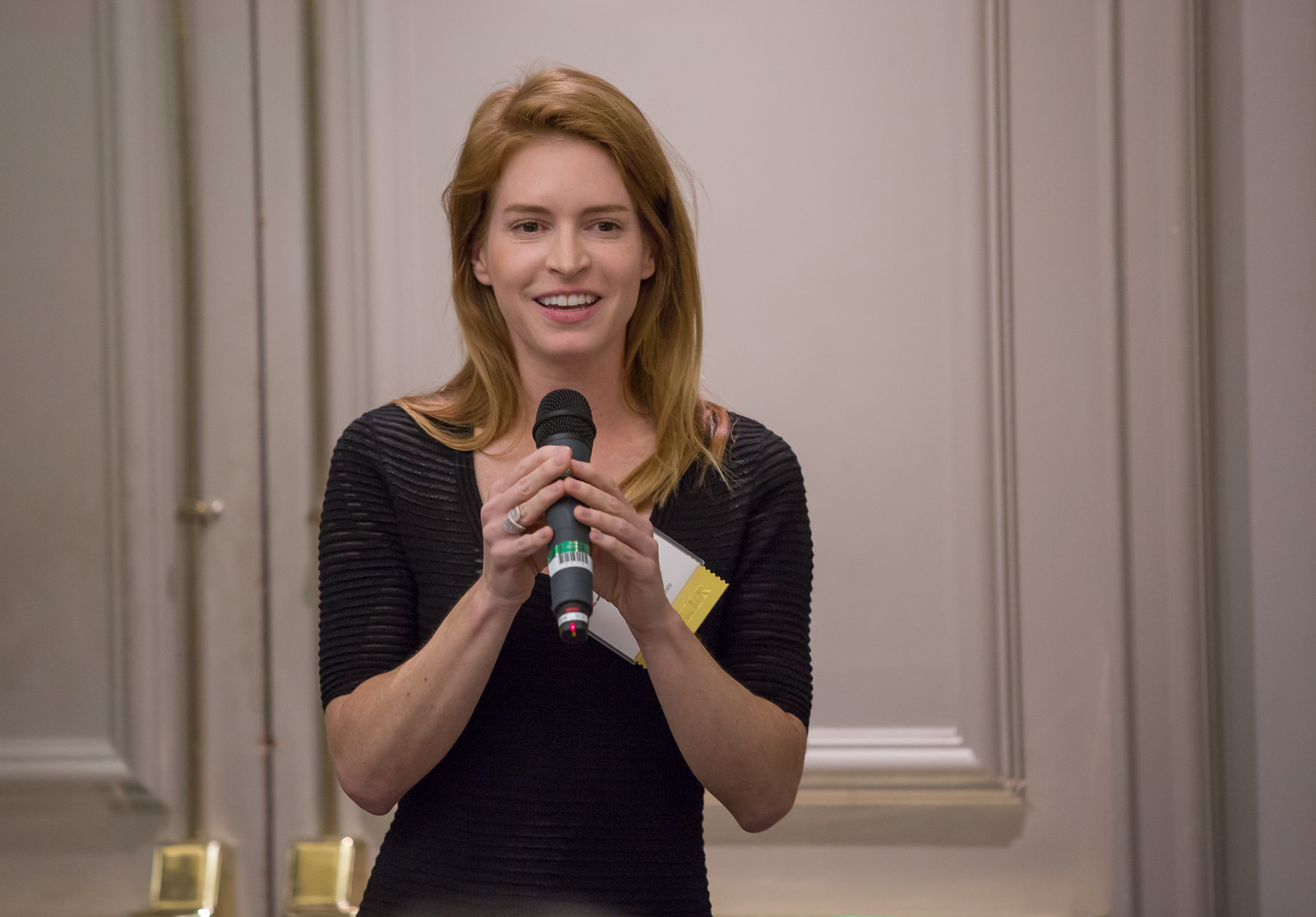 Beth Azor, President and CEO, Azor Advisory Services, MRED+U Board
Tere Blanca, President and CEO, Blanca Commercial Real Estate, MBS Board
Kim Briesemeister, Principal, Redevelopment Management Associates, MRED+U Board
Lissette Calderon, CEO, Neology Group, MRED+U Board
Sandra Cardona, Development and Capital Planning, Hersha Hospitality Trust
Alicia Cervera Lamadrid, Managing Partner, Cervera Real Estate, MRED+U Board
Carol Schaffel Faber, Partner and Co-Chair, Distressed Property Practice, Akerman LLP, School of Law RPD LLM Advisory Board
Lyan Fernandez, CEO, Attica Consulting Group LLC, School of Law RPD LLM Advisory Board
Jessica Goldman Srebnick, CEO and Principal, Goldman Properties, MRED+U Board
Vanessa Grout, President, CMC Real Estate, MRED+U Board
Lynn Hackney, Principal, Allyson Capital, MBS Board
Avra Jain, Founder, The Vagabond Group, MRED+U Board
Arden Karson, Senior Managing Director, CBRE, MRED+U Board
Kathy Moorman, Corporate VP of Real Estate, Baptist Health Enterprises
Melissa Rose, Managing Director, ACKMAN-ZIFF, School of Law RPD LLM Advisory Board
Nicole Shiman, Vice President Investments, EDENS, Miami Law RPD Board
Katie Sproul, CEO, Halstatt, LLC, MBS Board
Jacqueline Gonzalez Touzet, Co-Founder, Touzet Studios, MRED+U Board
MRED+U 2018-2019 Orientation Was a Successful Launch for All Involved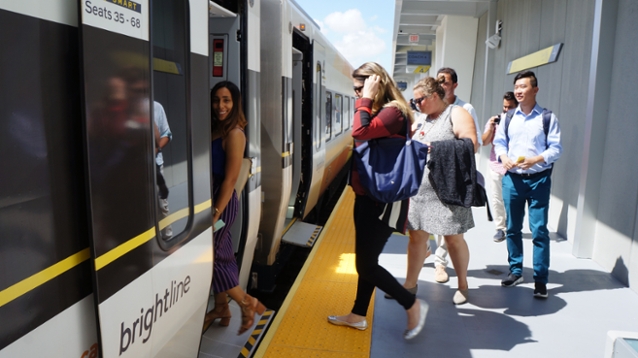 The MRED+U 2018-2019 orientation was kicked off with a welcome breakfast with our faculty and followed by a SoA graduate student reception and campus tour. The MRED+U students then headed off to Grass River Property to meet with Will Pierce, MRED+U alum '14, and Tom Roth to learn more about the CocoWalk renovation of launch of 3650 REIT. Finance Bootcamp and Market Analysis Tools are a staple of the orientation program and Professors Steve Nostrand and Mark Troen did not disappoint.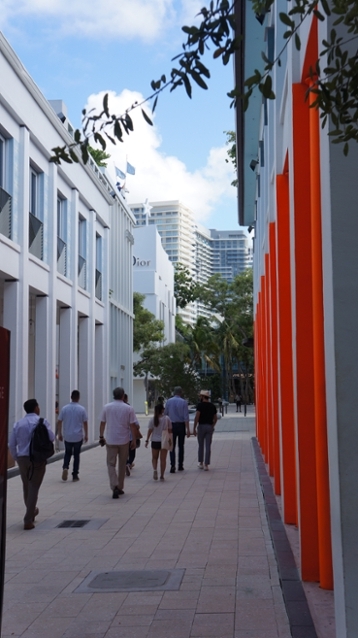 Wednesday morning was an action-packed day for our MRED+U students starting with a trip to Bal Harbour Shops to meet with Ben Elias with Whitman Family Development and hear about the much lauded expansion with Barneys New York. Our next destination took us to Ft. Lauderdale's Stiles Corporation where our MRED+U students met with Scott MacLaren CEO, Steve Palmer COO and Ian Schwartz VP of Operations, who gave a fantastic overview of the company history as well as its current pipeline of investments. We then headed south back to Miami on the BrightLine train courtesy of FECI and MRED+U Advisory Board Member, Kolleen Cobb, culminating in a station tour with Brian Kronberg. Our last stop for the tour was Brickell City Centre where Kieran Bowers, President of Swire Properties Inc. met with our MRED+U students and gave us an in-depth history of Swire Properties original investment in Brickell Key and development of Brickell City Centre. Our first Alumni/Student reception was hosted at Tacology providing our new MRED+U students with an opportunity to meet and connect with MRED+U alumni, many of whom had volunteered to serve as mentors to the incoming class.
---
MRED+U Brown Bag Lunch Series Continues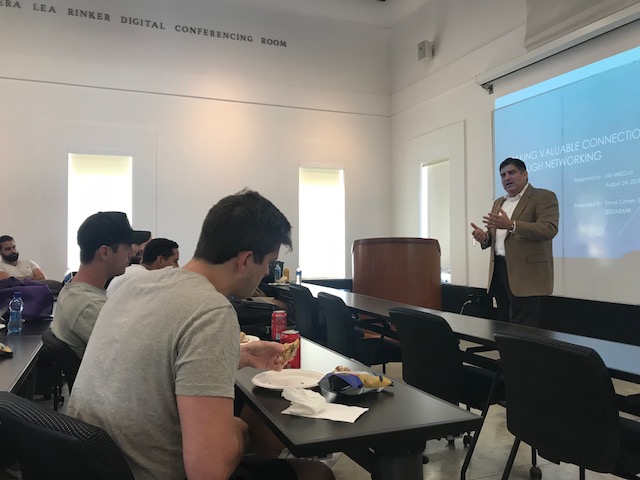 On August 24th, we welcomed MRED+U Advisory Board member Steve Cohen (IBERIABANK) back into the classroom for an interactive discussion on the benefits of networking including how to and why it is a critical component of business development in both the near and long term.
On September 28th, Advisory Board member Michael Tillman (LeFrak) joined the MRED+U classroom for a great topic discussion on "How to Find Compelling Projects." This topic had been suggested by our students last year and it was enthusiastically received. Michael Tillman joined the MRED+U students in the classroom to discuss LeFrak's influence in the South Florida market and highlighted the development process and hurdles overcome to create Sole Mia, Lefrak's project in north Miami, including design constraints and project sustainability. Michael walked the students through the thought process that he uses when he identifies and analyzes potential projects. He believes that it is critical to develop projects with future generations in mind and identified furnished micro-units and sustainable/off-the-grid developments as potential target candidates. Michael will also be back in the spring to teach one of many requested finance modules.
Andrew Frey returned to the MRED+U classroom for an always popular discussion on small-scale development that makes a large impact. Prior to founding Tecela, Andrew spearheaded a parking exemption for multi-family buildings less than 10,000 feet in size. This lead him identify opportunities for residential development  in Little Havana. His discussion focused on the feasibility of the affordable housing model in Miami. He believes affordable housing is not scarce but, in general, housing is scarce making affordability difficult. Problems with promoting the affordable model stem out of difficulties that small-scale developers face including the complex regulations associated with development. His success has been come from his ability to resolve issues that developers face on a daily basis.
Richard Rendina joined the MRED+U students in the classroom for the first time and spoke of his healthcare niche in the real estate market. He is responsible for the development, acquirement, ownership and management of healthcare real estate in markets all over the U.S. and his role in South Florida has mainly focused on development. Some of his projects include commercial buildings at Abacoa, a master plan mixed use community in Jupiter, and the expansion of Wellington Regional Medical Center. One of his biggest accomplishments was dealing with the pressures of assuming responsibility of a company at a young age. His willingness to assume the responsibilities associated with a leadership position, follow a vision, and pursue a passion made Rendina an entrusted development partner for clients in the healthcare business. Richard spoke to the value of a trusted internal team and the  professional relationships his firm has built that has led them to the continued success of medical building development.
Joe Minicozzi, a principal of Urban 3, came to the MRED+U classroom to share an overview of the role of property taxes on development and the tax cost of infrastructure for new development. His firm seeks to empower municipalities and developers to promote fiscal responsibility and a sense of place through innovative visualizations including 2D and 3D graphics displaying the economic potency of land uses. As explained, potency mainly focuses on urban cores. The graphics make it easy to compare the potency between properties and relate the urban core to surrounding areas. He also spoke about property value based on walk-able and urban core locations and how dense urban areas raise the taxable income more than development on the periphery. 
Jeff Birenbaum of Lehrer-Cumming Corporation joined the MRED+U students in the classroom to highlight the critical points in a construction and development lifecycle and provide an overview of why clients retain Lehrer-Cumming to oversee a project from start to finish. He discussed nuances and creative solutions for local projects with which he was personally involved, including Faena District, 1 Hotel South Beach, and the Aloft hotel. As part of his services he oversees the construction of development properties for clients who are either not located in the area, are not familiar with construction or prefer a professional firm. He discussed from his point of view how developers make projects more costly and what his firm can do to increase productivity in their role as a consultant. 
The Brightline Drink and Ride event, which was the kick-off event for the MRED+U Alumni Club, took place on Thursday November 1st. The event, which was organized by Natalia Cebollero and Jessica Younis, two of the founding members and active alumni, brought together approximately 30+ alumni for a night out on Brightline, Miami's highspeed train.  The group met in the Downtown Miami's Central Station and rode up to Ft. Lauderdale for a Happy Hour event at Stache, a short walk from the Ft. Lauderdale station. The MRED+U Alumni Club enjoyed catching up with each other over beverages on the roundtrip outing and hearing about future plans for the Alumni Club. Some of the goals of the MRED+U Alumni Club are to bring active alumni together for networking events and provide a forum for brainstorming sessions where they can share their latest endeavors and promote the MRED+ U program. The Club will continue their initiatives in place and encourages the MRED+U alumni to get involved!
Della Heiman and Ken Lyon joined the MRED+U students in the classroom on November 9th to share their experience with the creation of Wynwood Yard. Della Heiman of Wynwood Yard developed the business model in graduate school to offer healthy food options to a wider audience.  After contemplating several models, they joined forces to create a temporary space offering incubation food trucks and a demonstration garden with an ability to host community events.  Over time, containers were fabricated to create a full-service restaurant to create intimacy within the bigger space. Current plans are to move the containers by crane and truck to a new location in Doral in Spring 2019.
Armando Codina's real estate prowess and dedication to the South Florida community is legendary. Offering SoA students and alumni a unique and up-close opportunity to interact with was the culminating highlight of the first semester MRED+U Speaker Series him in Glasgow Hall on November 9th.  Mr. Codina first entered the real estate market in the 1970's as a way of providing his physician clients with additional services in the medical data processing industry. Mr. Codina quickly became one of the powerhouses in the South Florida market and built Codina Group, which was merged with Flagler Development Group (part of Florida East Coast Industries, Inc.) and later sold to Fortress Investment Group. In 2009, he established Codina Partners whose portfolio is comprised of residential, commercial and mixed-use projects including an investment of over one billion dollars in Downtown Doral. The 250 acre Downtown Doral is composed of 5,000 residential units, over one million square feet of office space, 250,000 square feet of retail space, Doral City Hall and Downtown Doral Charter Elementary School, and a middle and high school. Mr. Codina attributes his success to relationships and follow-through.
---
MRED+U Student Events Take Place Around the Country
Thanks to the ongoing support and generosity of our Advisory Board members, our MRED+U students have been able to participate in a number of events around the country this fall. All dues and sponsorships go to support the MRED+U program through scholarships as well as supplementing the costs associated with student competitions, participation in industry conferences and a myriad of other activities that provide direct involvement with prominent real estate professionals and projects.
MRED+U, Master of Architecture, and Bachelor of Architecture students participated in a comprehensive tour and study of Florida's Panhandle including Seaside (Advisory Board member Robert Davis), Rosemary Beach and Alys Beach. Seaside is recognized as one of the first environmentally designed new towns and the model for sustainable urban development.
MRED+U students attended the ULI Vision Awards where Craig Robins received the 2018 Lifetime Achievement Award (DACRA/Miami Design District). Anthony Graziano was an exceptional Master of Ceremonies and entertained over 700 attendees. MRED+U students attended the event thanks to the generosity of our Advisory Board members and the MRED+U program underwriting the cost of the student's event ticket.
MRED+U Students participated in the ULI Fall Meeting. MRED+U Students participated in the ULI Fall Meeting. In addition to attending the full conference, MRED+U students and faculty toured Boston on their own. They met with Russell Preston, Principle Group, and walked Mission Hill and made a few stops on the train line. They toured Faneuil Hall then met with Erin Bozarth, Director, Active Design, Graffito SP, developer of Kendall Square.
---
MRED+U Students Build their Own Futures in Design and Construction
Four female MRED+U students, having completed undergraduate professional degrees in architecture, engineering and other related fields, are on a path to enhance their education and broaden their career choices by pursuing pursuing dual Master's degrees in Real Estate Development and Construction Management offered at the School of Architecture. Chloe Pereira, Evelyn Vega, Jennill Santana, and Marjorie Junkin aren't shy about jumping into the role of a Construction Manager. They are fearless and relentless in their pursuit of knowledge enhanced by field experience. They see first-hand the practical application of what was once theory, in their undergraduate studies.