Building Small
Rethinking the Residential and Commercial Development Paradigm
Friday, March 31, 2023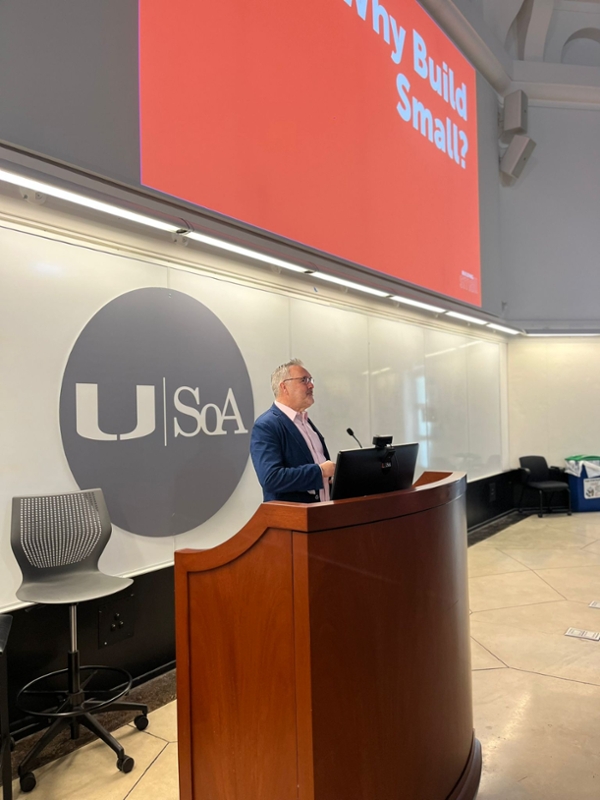 For the past few decades, architecture and development has moved increasingly towards large-scale, master-planned projects executed by corporate and institutional development firms. Jim Heid's guest lecture focused on the motivators behind that trend, and why it is so important for the industry to seek balance on the other side of the scale. Heid is the founder of CRAFT Development, and author of Building Small - A Toolkit for Real Estate Entrepreneurs, Civic Leaders, and Great Communities. 
He began by explaining that the ever-tightening regulatory environment has made it challenging and arduous for developers of all sizes, and that the only firms equipped to weather the process are those with enough capital to wait multiple years to get approvals. The unfortunate side effect of this process is that those select developers are now eager to make the absolute highest return on investment so that it can fund the wait times for additional large projects. It makes perfect sense from a business standpoint, but not necessarily at the community and neighborhood levels. "Highest and best use is a term we love to use in the industry," said Heid, quoting Pacific-coast developer Kevin Kavanaugh, "but highest and best use for who?" 
"The real opportunity for people interested in changing the built environment and getting involved in their communities and making a difference is small and incremental development built through an entrepreneurial and bootstrapped approach," he explained. In pursuit of that goal, Heid established the Small Scale Development Forum, which brings together developers and stakeholders who share in the promise of human-scale real estate projects. First convened in 2012, the forum meets annually in different cities across the United States to allow like-minded visionaries to showcase projects, plans, and explore opportunities together. 
Heid then took a moment to clearly define the difference between small in stature and small in concept - the central idea behind Building Small. "We're not simply talking about tiny houses and small buildings," he said. "It's small-scale developments built on single lots of single block scapes, with an incremental mindset." The benefits of this approach is that it not only allows developers to maintain the character of a neighborhood, but also to serve and underserved section of the market, while also dramatically reducing the risk typically associated with mega projects. 
It's not necessarily easier, Heid said. Both adaptive re-use and ground-up projects must hold themselves to the art of building from a more involved, hands-on perspective. "It's also not about budget, a single kind of project, philanthropy, or a temporary or transitional direction." Instead, he explained "small" is a methodology, asking what the ecosystem of users and places need from each other. 
The class explored a number of thoughtfully executed projects - including a car repair garage transformed into a neighborhood bistro and lawn space, a Charleston-based beer hall, and Seattle's Chophouse Row district. The discussion of development intensity figured prominently in this visual tour. "What is remarkable about small development is that it is almost universally 'transect agnostic' and that it works well wherever you want to place it," shared Heid. "In urban centers, rural communities, infill in established areas, expansion to new towns or cities, there's almost always a space for small development. It's also one of the most catalytic tools for redeveloping suburban corridors." 
Additional case studies in Phoenix, Arizona; Santa Fe, New Mexico; Healdsberg, CA; highlighted how each small development has its own standard of success. In some cases, it spurs on new local investment from shop owners and independent restaurateurs. In others, it's a return to downtown-centric residential living. Still others may revitalize a historic town or village and maintain character and quality of life for generations to come. 
Such was the case when comparing cities like Savannah, GA with newer metro areas such as Irvine, CA. Small building allows for adaptability on existing plots without massive changes to the streetscape as would be needed in a master-planned area. Professor Troen added another benefit to fine-grain destinations, in which value per square foot and acreage is actually increased by having more density to buildings with multiple purposes. Heid expanded on that idea, saying, "There's a unique opportunity in small building that lies in the comparative low cost of entry. However, when these properties do become catalysts in their neighborhoods, small developers can get shut out by larger firms wishing to capitalize on that success. The lesson is when you're looking to generate value for the development as well as the neighborhood around it, option up. Option additional land in the area so you can capture the value you're creating for yourself." 
The class also discussed how small building is connected to authenticity and economic strength and stability. According to numerous studies and surveys, "small" is inherently more flexible and desirable across nearly every market sector. Residents ultimately want to be part of the community fabric, meaning that they want to be able to open a restaurant, gather with friends and loved ones, and have real estate they can own so they can build wealth. Large and mega-scale developments often create significant financial barriers for local residents, but small-scale can rearrange components to solve individual needs and challenges. As an example, Heid shared CRAFT's Kennedy Lane project - which brought small-scale housing to a community that needed it - without re-zoning and with unique solutions for detached garages, a solar installation, and a shared neighborhood green. 
"There's a reason why small development works," Heid said, "it's because they feel real and accessible in a way that's more interesting than maximized square footage or identical designs. It's the kind of thing that makes people pause, think, reflect, and engage." He closed by encouraging tomorrow's real estate professionals to embrace the ideas and tenets of small building even when building larger projects - looking for ways to maximize social equity alongside profitability - so that everyone, developer and community alike can win big.