---
ULI Fall Meeting, Washington, DC September 16-19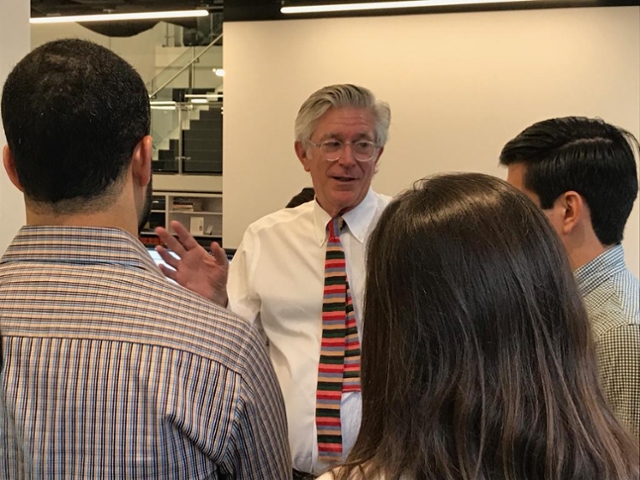 The 2019 MRED+U students just returned from the ULI Fall meeting which takes place annually at different cities throughout the U.S. This year the meeting took place in Washington, D.C. and was filled with a blend of MRED+U site visits, lectures and meetings in addition to all the events and activities surrounding the ULI Fall meeting. UM was well-represented with a total of 25 MRED+U students, Dr. Charles Bohl, MRED+U Program Director and Mark Troen, Full-time Lecturer.
We commenced Tuesday with a visit to HOK, a global design, architecture, engineering and planning firm. With over 1,700 people collaborating across a network of 24 offices on three continents, HOK is one of the premier international multi-disciplinary firms offering architecture, engineer, interior, landscape architecture, lighting, and planning and urban design services to public and private clients throughout the world. Mark Troen facilitated our visit with Bill Hellmuth, HOK's Founder and CEO, as he had previously worked on a town center project with HOK. We spent the morning learning about some of their past and current projects.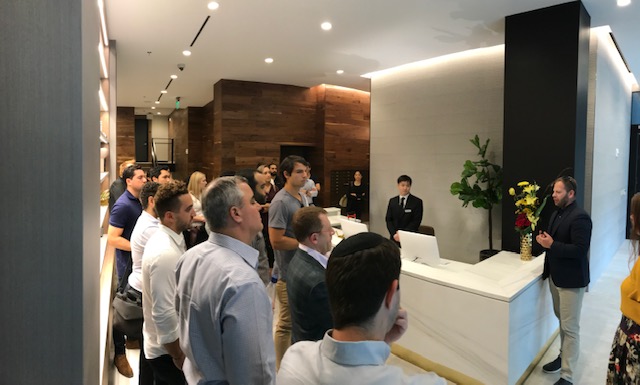 Next up was a lunch hosted by John Torti, founding partner of Torti Gallas + Partners, where we learned more about the firm whose multidisciplinary approach to placemaking involves designers, architects, planners and community liaisons with a goal to design buildings and places that promote balanced and sustainable progress. We toured places and projects in two corridors, Columbia Heights and H Street, and leaned about their unique approach to design and placemaking.
Following those site visits, we visited The Clifton, Advisory Board member David Arditi of Aria Development Group's most recent D.C. project. The Clifton is a 156 multifamily urban infill project with affordable housing and market rate units. Designed for the next generation of apartment living, The Clifton offers several stand-out amenities including a concierge-staffed delivery and pick-up area that includes cold storage for food and flowers, package lockers, and dry- cleaning storage; a sun-soaked rooftop terrace that leads to an oasis above the city with a chef's kitchen and private dining room; a controlled-access bicycle storage, repair station and separate convenient bicycle entrance and, for those who love their four-legged companions, a fully-equipped pet spa.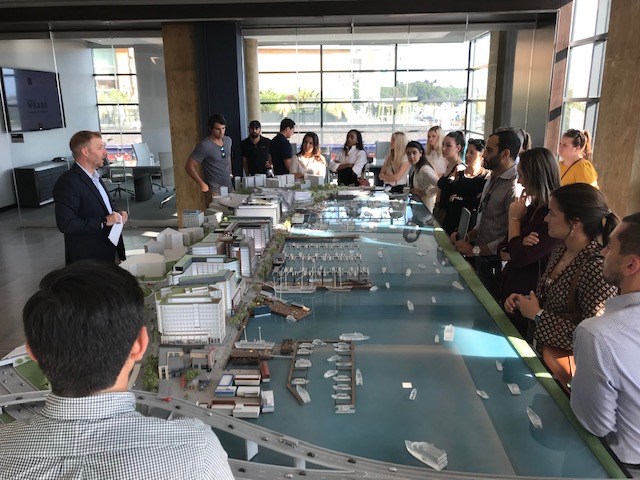 Wrapping up the full day was a meeting with the developers behind The Wharf - PN Hoffman and Madison Marquette, two accomplished mixed-use developers with national stature, unparalleled reputations, and stellar financial results. The Wharf was developed as a waterfront city and destination and is a mile-long stretch along the Potomac River with restaurants, retailers, residences, and businesses with easy access to Washington, DC's most beloved monuments and memorials, art venues, sporting events, and more. 
---
MRED+U Speaker Series Launched on August 23rd
Our Fall Speaker Series commenced with a dynamic discussion with Advisory Board member Steve Cohen on Making Valuable Connections Through Networking. Back for his third year, this topic has always been an extremely useful way to start off the fall semester as our new and returning students are keen to develop networking skills and business connections as they start the MRED+U program. Andrew Frey joined Dr. Bohl's classroom last Friday to speak on developing within Miami 21.
We have a full calendar this fall with several Advisory Board members either coming into the classroom or hosting a site visit. Classroom speakers currently scheduled include Kieran Bowers, David Martin, Nitin Motwani, Michael Tillman and Tigre Wenrich. Both David Arditi and Lissette Calderon are hosting site visits featuring one of their current projects later this semester. If you would like to participate in the classroom or by hosting a site visit, please email Allison Freeland at Allisonfreeland@miami.edu.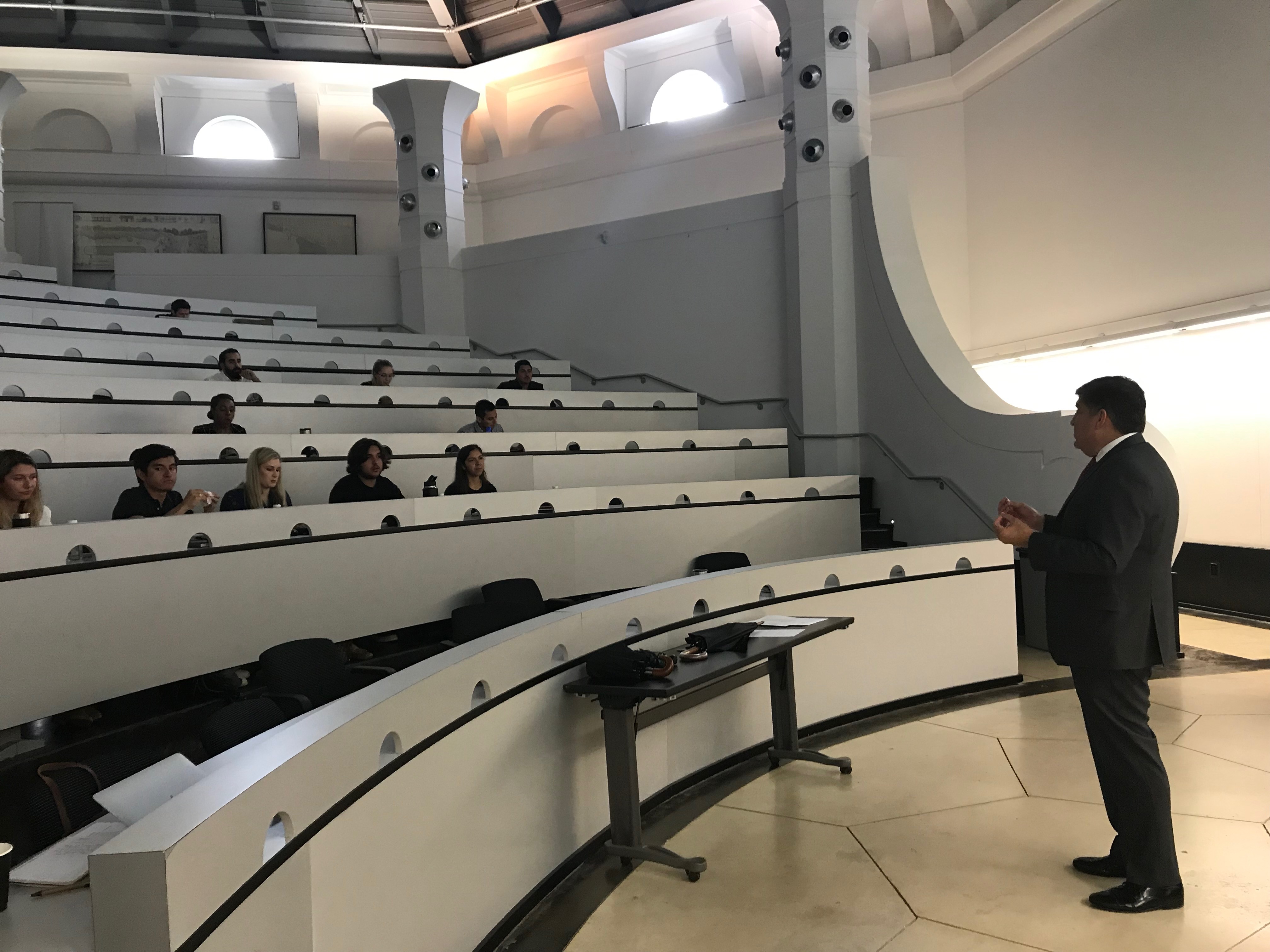 Our Fall Speaker Series commenced with a dynamic discussion with Advisory Board member Steve Cohen on Making Valuable Connections Through Networking. Back for his third year, this topic has always been an extremely useful way to start off the fall semester as our new and returning students are keen to develop networking skills and business connections as they start the MRED+U program.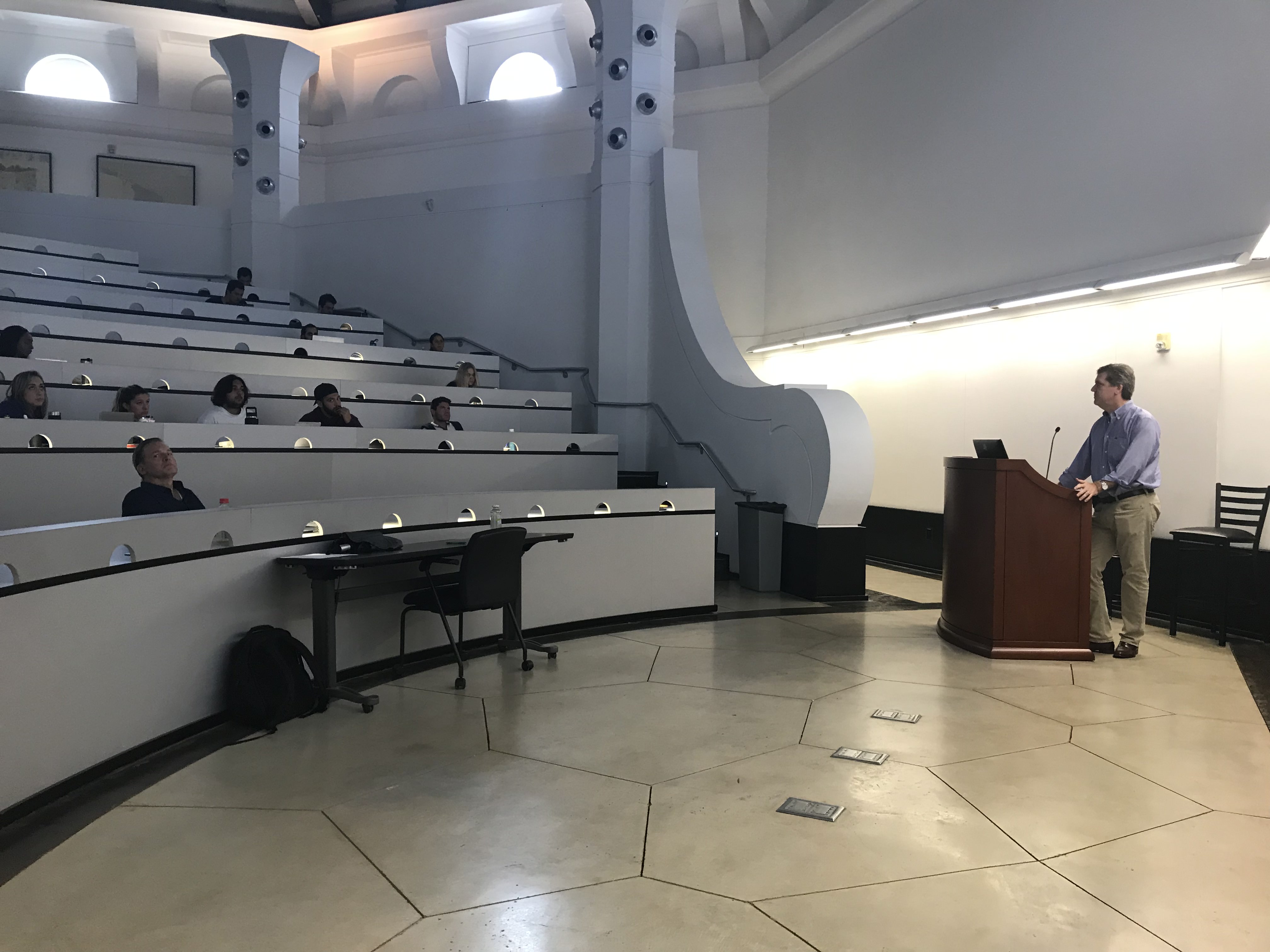 MRED+U students enthusiastically received a visit from one our newest Advisory Board members, Tigre Wenrich. Tigre has spent the last 10 years full-time in Miami focused on angel investments and capital raising primarily for the Proptech (property technology) sector. The emerging PropTech sector is on the cusp of the latest in disruption using information and technology to manage and research real estate. These technologies can be applied to many sectors in real estate including construction, design/drawing, property management and zoning to name a few. South Florida is home to many of these entities and Miami is on the leading edge with companies successfully focused on zoning and building codes. Construction and real estate are among the least two digitized industries which are creating opportunities for entrepreneurs. Other potential niches include: title work, lease management, energy efficiency and safety and mechanical issue maintenance.
Advisory Board member Michael Tillman is a long-time advocate of student engagement and routinely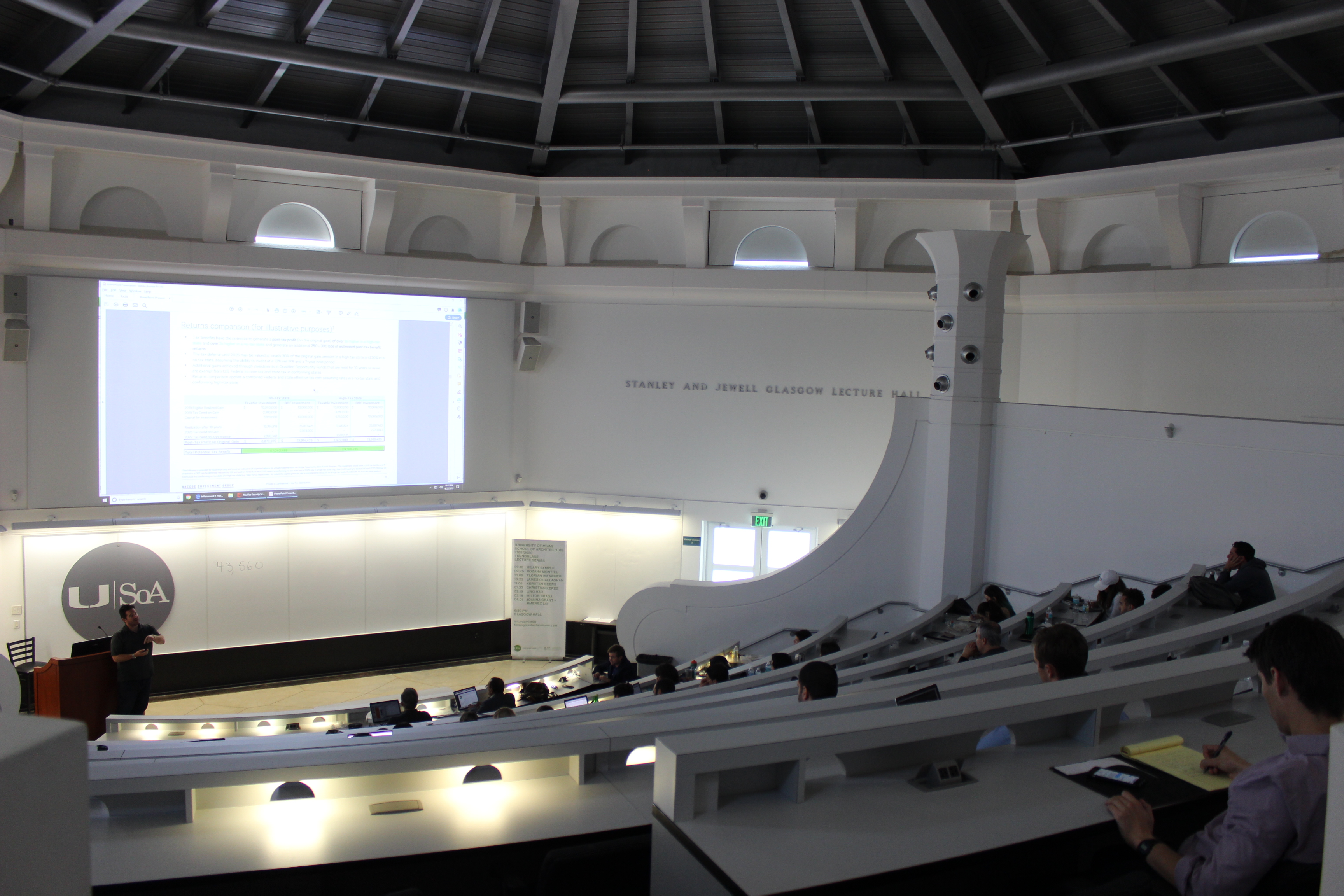 comes into the classroom to encouragestudents to connect with their Advisory Board mentors and other professionals they meet along their graduate study path as well as provide resume writing workshops and mock interviews. In addition, Michael has been a guest lecturer on a variety of finance-oriented topics sharing skills and analysis techniques he has learned along his own career path. Most recently, Michael was in the MRED+U classroom to provide an overview of Opportunity Zone investing and how real estate developers are capitalizing on the tax credits to bring quality projects into communities identified by local governments as Opportunity Zone. Michael's current project, Soleste Grand Central, is in Downtown Miami and is a multi-family project with 360 units.
New to the MRED+U classroom this year, Olivia Ramos is a former student of the MRED+U program and founderand CEO of Deepblocks, a company whose goal is to create a software that merges demographic, zoning, financial, and market data all in one place. In brief, Deepblocks Pro is an online software tool to test and evaluate potential land development scenarios.  It is focused on the early stage of analysis, aggregating building, construction and market data assumptions and uses a basic return on cost percentage to evaluate changes. Olivia gives substantial credit to the support she has received from the development ecosystem including Advisory Board members Avra Jain and Arden Karson, who she credits with providing wonderful mentoring and guidance to her as she embarked on this venture.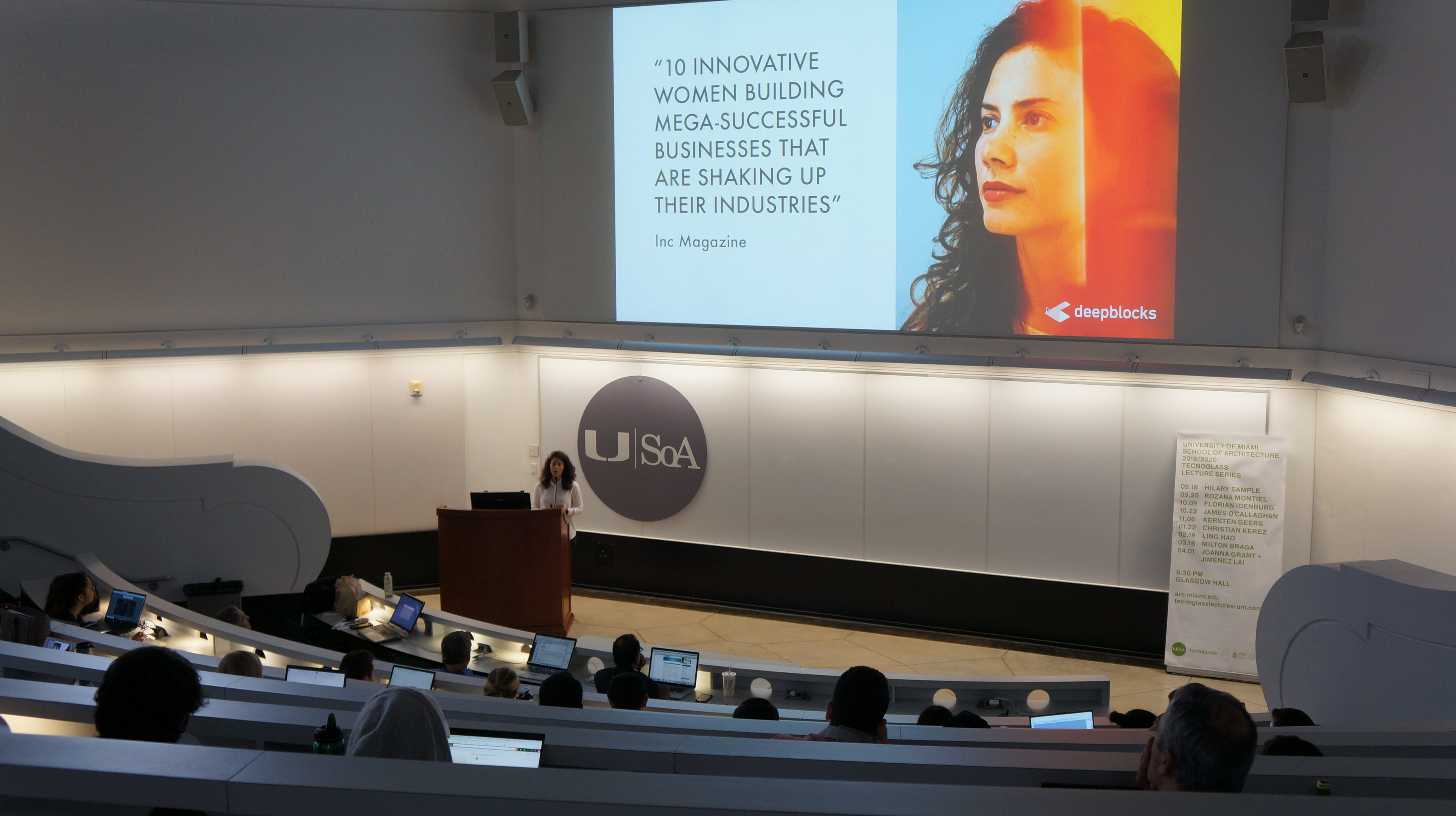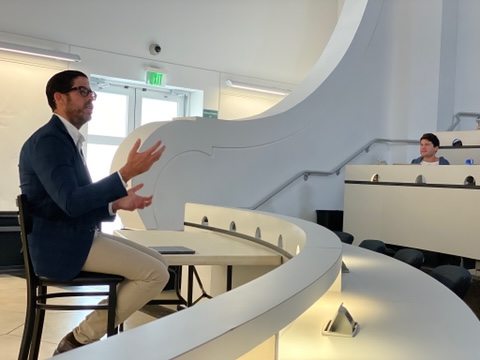 The MRED+U student calendar continues to be filled with visits from Advisory Board members both on and off campus. Advisory Board member David Martin, CEO and Co-Founder of Terra Group, came to speak to Dr. Bohl's Intro to Real Estate Development and Urbanism class on Friday October 25th. David, a Miami native, is personally devoted to resiliency, neighborhood and community development, and communication strategies within the markets Terra Group invests in. His mission of ensuring confidence in stakeholders of various communities has risen to the forefront of his daily work. By dedicating substantial time towards connecting with municipalities, David's bottom line is driven by the incorporation of critical factors cities and towns demand when working alongside private developers. Within his core message to the students, David strongly emphasized mindfulness of tax incentives, incrementally boosting assessed property values, and composition of neighborhoods being critical to getting projects entitled. While recognizing the Miami area has become a hotbed for developers looking to "make a difference", David's tone was positioned around the initiative that private firms should not be looking to destruct community but more so, positively impact existing communities.  When going into someone's "home turf" developers should not be looking to eradicate the daily sights and sounds of the landscape but seek to improve existing housing stock, clean up sidewalks, or business storefronts. By providing small facets of improvements a developer is able to show empathy, awareness, and commitment to the project beyond their involvement. With such goals, a developer is inherently forced to become transparent in their processes. David's lasting message encouraged students entering the field to acknowledge the differentiation of understanding urbanism and innovative planning methods. He correlates the thorough consideration of what cities and towns think they need versus what and urbanist is looking to achieve. When doing so, a developer stimulates stakeholders, activists, and elected officials empowering them to speak up throughout the development process. Martin highlighted that this seemingly tedious task will create insurmountable value for a future developer's outlook.
On November 1st, the MRED+U students traveled to downtown Miami to meet with Advisory Board member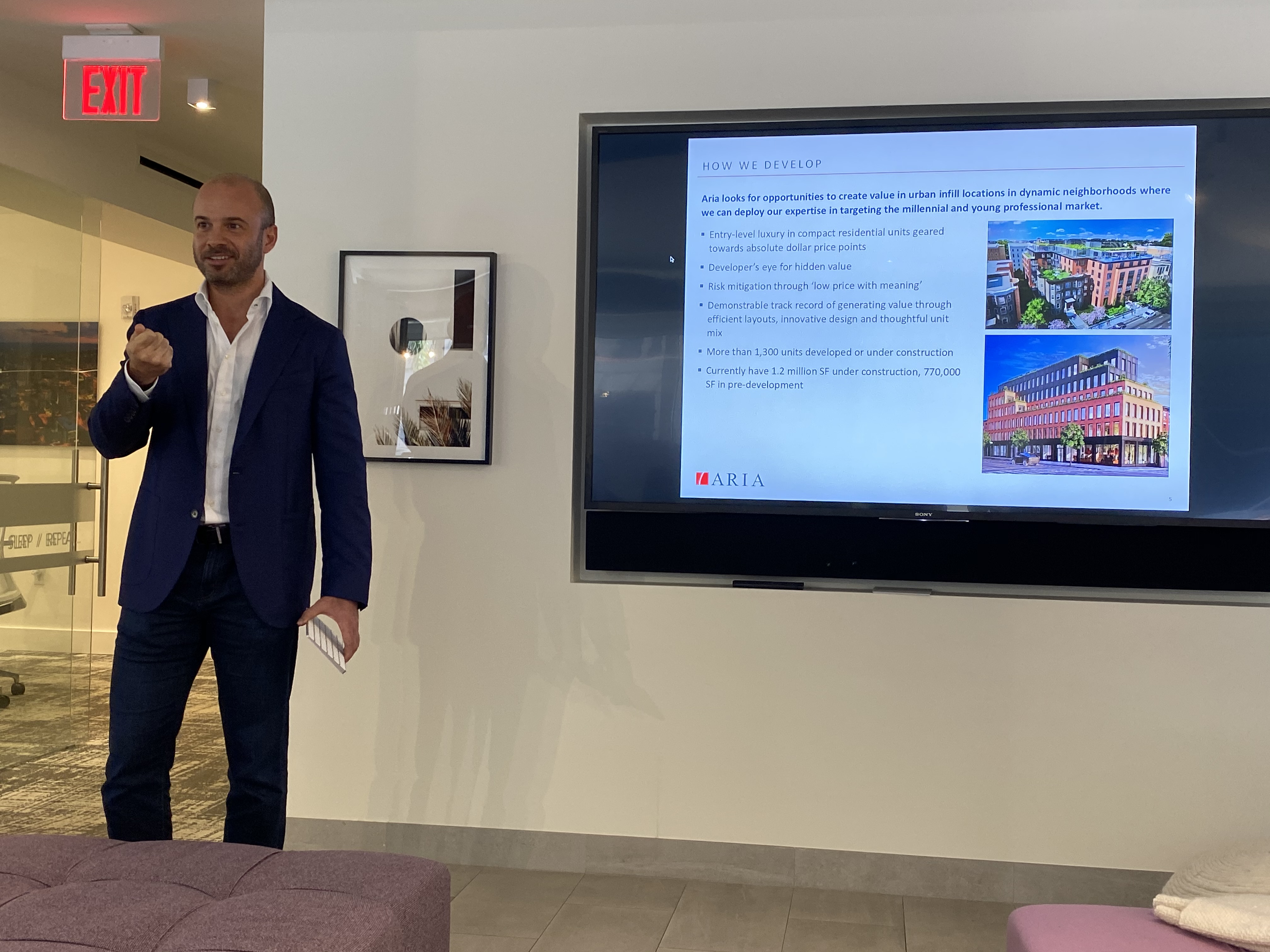 David Arditi,Principal of Aria Development Group and learn about the recent groundbreaking of YOTELPad Miami, a 31-story, mixed-use hotel and residential development that will be the first of its kind on the East Coast. Aria Development Group's joint venture with AQARAT is slated for completion in early 2021. An extension of the global YOTEL brand, YOTELPad Miami's residential units will range in size from 417 square-foot studios to 708 square-foot two-bedrooms. Located on floors 15-30 of the building at 227 N.E. Second St. in downtown Miami, the residences will be built atop the hotel that will have 222 guestrooms. Aria is a real estate investment and development firm with offices in New York City, Washington, DC and Miami. Founded in 2009 by partners Joshua Benaim, David Arditi and Timothy Gordon, the firm marries a classic value investment strategy with the traditional real estate principles of location, scarcity, and beauty. Aria invests capital on behalf of its principals and partners in both real estate equity and real estate related debt. Aria specializes in complex situations including ground up development and adaptive reuse, mezzanine financing for assemblage or construction, preferred equity and joint venture equity. Aria's development projects are focused on creating distinguished urban infill multifamily and mixed-use properties in great neighborhoods. David has been active on the Advisory Board for several years and greatly enjoys mentoring students and speaking in the classroom as well as hosting site visits. In addition to the YOTELPad site visit, David arranged for a tour of The Clifton, the firm's most recent D.C. project, in October.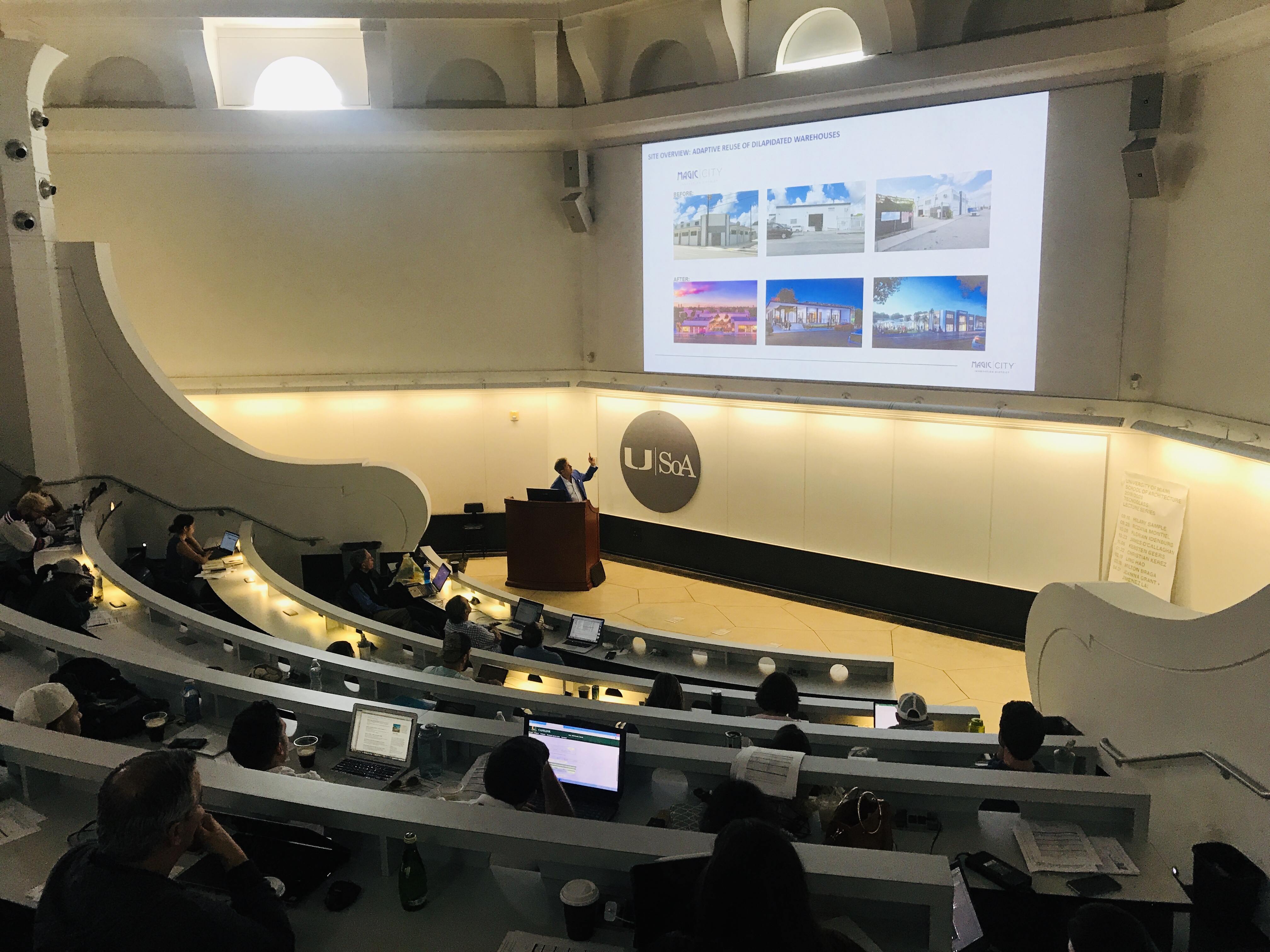 Advisory Board member Neil Fairman  Chairman of Plaza Equity Partners, a Miami-based real estate development and investment, is the driving force behind Magic City Innovation District in Little Haiti. Other key development partners include Metro 1 and Lune Rouge. Magic City Innovation District is a new urban community dedicated to technology, sustainability, health and wellness and art and culture. The new district will be located in Little Haiti and Little River between and in close proximity to the successful redevelopments of MiMo and Upper East Side, Buena Vista, the Design District, Midtown Miami, Wynwood and Edgewater. The goal is for the Magic City Innovation District to be the hub for projects and startups focused on digital entertainment content creation and technology, integrating new construction with adaptive reuse of existing warehouses and historical buildings.The master plan includes greatly expanded open and civic space from existing and proposed vistas and existing and proposed transit alternatives including enhanced bicycle circulation. Job creation is at the forefront with projected economic impact of almost 12,000 direct and indirect full-time jobs and enhanced taxes and revenues from local expenditures as well as hotel and sales tax collections. The Magic City Innovation District Foundation has been established to preserve the character and culture of Little Haiti to support local arts organizations, small business owners and children's programs. The Magic City Innovation District qualifies as an Opportunity Zone in Florida which will provide a tax incentive for investors.
---
Fall Orientation Was a Tremendous Start for All Involved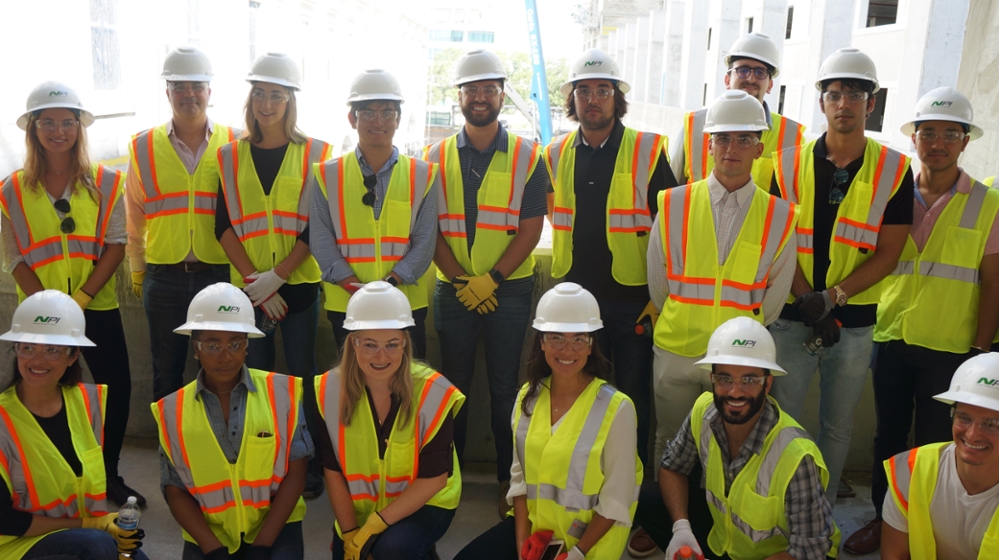 The MRED+U 2019-2020 orientation was kicked off with a welcome breakfast with our faculty and followed by a SoA graduate student reception and campus tour. The MRED+U students then headed off to Grass River Property to meet with Peter Lapointe and Brent Thurn and learn more about the idea behind the CocoWalk renovation and launch of 3650 REIT. Immediately following, we toured CocoWalk and viewed the construction progress, new floor plans, and expanded tenants spaces and uses.
On Tuesday, we headed first to Paseo de la Riviera, one of NPI's mixed-use projects which includes a residential building with over 200 one, two and three bedroom rental units and a new hotel with almost 250 hotel keys including a Presidential Suite that can be used for a variety of entertaining functions. Nestled within the two buildings will be two restaurants (one of which will be featuring a James Beard award-winning chef), a pool bar, hair salon, communal work space and parking. Thank you again to Advisory Board member Brent Reynolds for putting us in the capable hands of his hotel and residential team. Following lunch, we headed downtown to tour The Brickell Flatiron with Advisory Board member Vanessa Grout. The building is spectacular in its exterior and interior design and the roof top vistas were the talk of the tour. From there we headed to The Vagabond Motel and met with Advisory Board member Avra Jain and MRED+U Alumna Natalia Cebollero for a fascinating overview of MiMo and the myriad of projects she has underway involving affordable housing, construction, preservation and restoration. The day was capped off with a casual happy hour with MRED+U alumni at the iconic Vagabond Motel pool.
On Wednesday, Thursday and Friday mornings, our MRED+U students were introduced to Finance Bootcamp and Market Analysis Tools, both staples of the orientation program, and led by Professors Steve Nostrand and Mark Troen, respectively. On Wednesday afternoon, the students met with Advisory Board members Scott Davidson and Carlos Rodriguez as well as long-time MRED+U supporter Venny Torre over lunch to learn more about the activity in the Coral Gables market. Each spoke to his unique business strategy which included discussion on asset class, development, repositioning and geo-focus. 
On Thursday afternoon, after the second session of Finance Bootcamp, our MRED+U students joined other SoA graduate students for a tour of Wynwood Walls, the brainchild of the late Tony Goldman and founding member of the MRED+U Advisory Board and whose development has been further launched into permanent history under the direction of MRED+U Advisory Board member Jessica Goldman Sbrenick. This was followed by a tour of the Miami Design District, another visionary project created by MRED+U Advisory Board member Craig Robins and recent recipient of the 2018 ULI Lifetime Achievement Award. The day ended with a SoA graduate reception at Shulman & Associates.